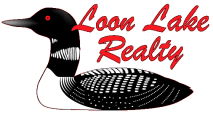 Washburn County WI - Lakefront Property with Rustic Bunkhouse!
This beautiful, Northwest Wisconsin wooded lakefront land is located on spring-fed, 400-acre Gilmore Lake just minutes from the Village of Minong. This beautiful lakefront land is available now during the seller's Pre-Construction Sale for $5,000 off list price! Listed at $139,900, you can own this land now before road construction is complete for just $134,900!
NOTE: The seller has contracted for the building of the access road but is offering this beautiful lakefront land with an automatic $5,000 discount if you invest now. The road will be completed in plenty of time to enjoy your new lakefront land in the spring. It's guaranteed in writing.
This beautiful 1-acre lakefront property is wooded with pine, birch, fir, and maple. It has access from a private road. The existing bunkhouse can be improved to create sleeping space until you build your dream cottage or to create added space for guests and family. You are also free to camp until you build. Put in your dock and keep your boats, canoes, and kayaks handy for long days on the water. This is a sand bottom lake with perfect conditions for swimming right from your shoreline.
400-acre Gilmore Lake is spring fed Wisconsin lake and has excellent water clarity. This gorgeous lake is 36 feet deep, and it offers great fishing for bass, northern pike, walleye and panfish. There's plenty of room for boating, skiing, fishing, and swimming.
Private shoreline properties like this are rare, and you will want to take advantage of this opportunity before it is sold. Call today and to set up your appointment.
Property Number: GLWC06
Price: $134,900!
Location: Northwestern WI
Call 1-800-388-7685 for more information