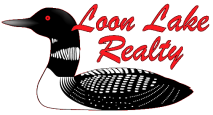 Wisconsin and Michigan Real Estate
At Loon Lake Realty we specialize in southern, central and northern Wisconsin and Upper Peninsula of Michigan wooded acreages, waterfront property, and hunting and camping land. We feature only the finest in lakefront land and acreage for camping, cottages, cabins and log homes in Southern, Central and Northern Wisconsin and the Upper and Lower Peninsula of Michigan.
Our real estate listings include Wisconsin and Michigan waterfront lots including acreage located on lakes, rivers, and streams. Many of our properties are located close to communities like Crivitz, Pembine, Florence, Crandon, Wabeno, Lakewood, Townsend, Mountain, Marinette, Antigo, Park Falls, Black River Falls, Necedah, Prairie du Chien, La Crosse and Mauston.
We specialize in the sale of wooded acreage properties suitable for residential living, vacationing, retirement, camping and investment. Please feel free to browse our listings, and never hesitate to call or email us for detailed information about the properties that interest you. It is our pleasure to help you realize your dream of owning a rustic, Wisconsin or Michigan getaway property.
"Buy land. They ain't making any more of the stuff."
- Will Rogers
Call 800-388-7685 today!
Wisconsin and Michigan Property Information
Please check this page often for new real estate listings, property price reductions and special offers.

If you provide us with any or all of your contact information we will:
Supply you with additional information about our current property listings.
Look for the type of property you'd like to own.
Inform you about new real estate listings.
Notify you about property specials, real estate sales, land auctions and price reductions.
When you're finished, click the "Send" button. The information you provide will be kept strictly confidential. It will not be sold or given to other parties.