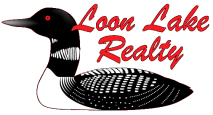 Love the Outdoors? Sell the Outdoors! Sell Land!
Sell waterfront and wooded property in northeastern Wisconsin.
Loon Lake Realty, a land development company and vacation property specialist, is actively seeking sales professionals for a real estate career opportunity.
Training, listings and leads provided.
Assistance with licensing and training.
Excellent income potential.
No MLS or Realtor fees.
No desk or office fees.
No cold calling.
Careers at Loon Lake Realty
If you enjoy the great outdoors and helping people Loon Lake Realty is the place for you. Our sales agents work with customers to help them find their ideal property from a large and diverse selection of exclusive real estate listings located throughout Wisconsin.
Although real estate experience is a plus and not necessary, professionalism and concern for our customer's needs is mandatory. Applicants must be outgoing, well-organized self-starters and have the ability to effectively communicate with customers using e-mail and the telephone.
A typical work week at Loon Lake Realty includes:
Fielding new incoming telephone and e-mail inquiries about property listings.
Following up with current and past customers about their property search.
Managing e-mail, internet, print advertising and direct mail campaigns.
Meeting and showing properties to potential customers.
Helping customers with their questions and the technical details of owning land.
Preparing and presenting purchase agreements to buyers and sellers.
Assisting with bank loans and real estate financing options.
Walking and learning about new land listings.
Enjoying the great northwoods of Wisconsin while sharing that enjoyment with others.
Despite what one sees on the nightly news about the downturn in real estate, there continues to be a strong demand for recreation property. With interest rates at all-time historical lows, more people vacationing closer to home, masses of retiring Baby-Boomers, and a pent-up demand to own property, there is no better time to begin a new career selling vacation property.
Loon Lake Realty provides a comfortable work environment filled with highly motivated people who are given every opportunity to succeed. Our experience and support combined with your hard work and positive attitude will create much more than just a new job, but rather a new career of selling the outdoors.
Our simple recipe for success is having great agents presenting great property to great customers.
If you would like more information about joining our team send your resume in confidence to careers@wisloonlake.com or call Kevin at Loon Lake Realty. 1-920-826-4700.