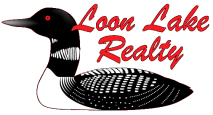 Northern, Central and Southern Wisconsin lake lots, river property and waterfront real estate for sale. From private lakefront and river shore, to deeded and public access listings, Loon Lake Realty specializes in land for sale suitable for camping or building a retirement home, lake house or vacation cottage.
Wisconsin Property Information
Please check this page often for new real estate listings, property price reductions and special offers.

If you provide us with any or all of your contact information we will:
Supply you with additional information about our current property listings.
Look for the type of property you'd like to own.
Inform you about new real estate listings.
Notify you about property specials, real estate sales, land auctions and price reductions.
When you're finished, click the "Send" button. The information you provide will be kept strictly confidential. It will not be sold or given to other parties.