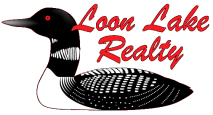 Financing & Guarantee
Financing
Financing is available through local lenders with whom we have worked with many years. We will gladly assist you in finding a suitable lender or you may furnish your own lender financing or cash. However, no matter how you pay for your property you and/or your lender can be confident that you are making a sound decision in your real estate purchase with Loon Lake Realty's Buyer Protection Plan.
Buyer Protection Plan
Purchasing "Up North" real estate for vacations or future relocation can be very rewarding. Most people purchase at least one home if not several over the course of their lives. However, buying property, especially vacant land, in a distant market can be fraught with risk and uncertainty. Loon Lake Realty's Buyer Protection Plan will help make your decision to own property in this unfamiliar market a little easier and certainly much more enjoyable.
Warranty Deed
A Warranty Deed for every property purchased is provided at closing. A Warranty Deed is the highest form of real estate ownership in the upper Midwest. Real estate transferred by Warranty Deed is the most protective conveyance available with the Seller warranting the property free and clear of any unacceptable liens or encumbrances.
Soils Work
Area soil maps, sample soil borings or soil tests are examined for every project listing to ensure suitability for a state-approved sanitary disposal system. If the property is unsuitable for a state-approved sanitary disposal system, we don't even list it.
Title Insurance
Title Insurance for every property is provided from an independent, established title company to assure that the property is free of any unexpected liens, encumbrances or title defects. The Seller pays for the title insurance policy that covers the Buyer for the full amount of the real estate purchase price.
Survey
A survey, prepared by a licensed professional land surveyor, is provided for almost every property listed. This assures that the boundary corners are properly located and marked, and that the property dimensions are accurately measured to determine the correct acreage.
Lot Information Statement
A Lot Information Statement is provided at the time the purchase agreement is written to help answer the most common questions about the property to be purchased. Each property is unique and will have its own individual information but common to most properties will be information on use and building restrictions, zoning, setbacks, road access and maintenance, sanitary disposal, well information, utilities and property taxes.
Guarantee of Buildability
A written Guarantee of Buildability is provided at closing for each property purchased. It warrants that based on all currently applicable federal, state, county and local zoning and land use regulations that the property shall be buildable and suitable for a single-family residence and suitable for a state approved sanitary system.
Customer Service
After the purchase of a property through Loon Lake Realty we remain at your service to help answer questions about your property and to assist you with any matter so that you can enjoy your property in the way you intended. With many years of experience and knowledge we will remain your "Up North" contact.