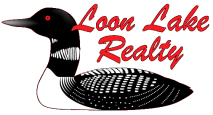 Monthly Special from Loon Lake Realty!
Loon Lake Realty works closely with property owners to price land to sell quickly. If you have any questions about the land on sale offered here, or don't see the type of property that you're looking for, please contact us.
WI Wooded Camping Land!
Set up your camp or build your log cabin in the level meadow surrounded by a mature forest and head out to hike and hunt your woods on this 4.5-acre Northern Wisconsin property. This hunting land is located off a paved road with power and is just seven minutes east of the Village of Pelican Lake and surrounded by great fishing, boating and swimming lakes! This recreational area is ideal for anyone who wants acreage for hunting and fishing.
Property Number: PLW10
$24,900!

For more information on this property, send us an
e-mail
or call 1-800-388-7685
Wisconsin Property Information
Please check this page often for new real estate listings, property price reductions and special offers.

If you provide us with any or all of your contact information we will:
Supply you with additional information about our current property listings.
Look for the type of property you'd like to own.
Inform you about new real estate listings.
Notify you about property specials, real estate sales, land auctions and price reductions.
When you're finished, click the "Done" button. The information you provide will be kept strictly confidential. It will not be sold or given to other parties.