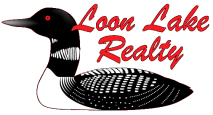 Loan Pre-Approval
Purchasing that perfect waterfront or wooded property for a cabin or new home is certainly a time when you want confidence, convenience and a competitive edge. It's a time when you want to make solid decisions and have all the facts. That's why it makes sense to explore financing with a free written pre-approval.
Some Reasons To Get Pre-Approved
Save yourself time by determining the price category of property you can afford before you look at property.
Have more time to find the loan program that best fits your needs and plans for the property.
Give yourself the clout of being a cash buyer.
Be ready to act without hesitation when you find the right property.
Get a step ahead of other buyers competing for the same property by showing the seller that you're a buyer with a written pre-approval in your hands.
Give yourself more negotiating power by eliminating financing contingencies.
Eliminate unexpected delays in loan approval and loan closing, so you can begin enjoying your new property sooner.
If you would like the added confidence of pre-approval, simply email Loon Lake Realty. We will be happy to assist you. Most pre-approvals take less than 3 business days. By pre-approving you are under no obligation to purchase property or use the financing; it's simply an option for you to consider. It's fast, free and confidential.