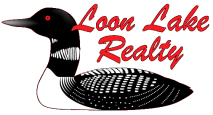 Why Is It So Difficult To Find Quality Wisconsin Lake Property?
Wisconsin has the third largest concentration of fresh water lakes in the world. Only Alaska and Ontario, Canada have more lakes per square mile than Wisconsin. Despite this abundance of lakes, Wisconsin is nearly out of buildable, vacant lakefront land. The October, 1998 issue of Wisconsin Natural Resources magazine reported that Wisconsin will be out of undeveloped lake front land before the year 2018.
As for the relationship between the price of lakefront real estate and the surface size of Wisconsin lakes, 86% of Wisconsin's lakes are smaller than 50 acres in size and largely classified as 'no-wake' lakes. Only 4.5% of Wisconsin's lakes are larger than 200 surface acres with only 1.7% of Wisconsin's lakes larger than 500 acres.
General Facts about Wisconsin Lakes
Wisconsin is a state rich in lakes. It's approximately 15,000 lakes range in size from small one-and two-acre spring ponds to 137,708-acre Lake Winnebago. Due to variations in chemical and biological composition, physical characteristics, and diversity of origin, each lake should be considered unique.
Of the 15,081 documented lakes in Wisconsin, only about 40 percent have actually been named. The majority of the unnamed lakes are very small, less than 10 acres. Most lakes are in the northern and eastern parts of the state dotting the path of the glaciers. The unglaciated region, or Driftless Area, of southwestern Wisconsin has very few lakes by comparison.
About 3,620 of the state's lakes are larger than 20 acres, constituting more than 93 percent of the surface area of Wisconsin's inland lakes. The total inland lake surface acreage in the state approaches one million acres. Figure 1 shows the relative percent of lakes in different size categories in Wisconsin.
Figure 1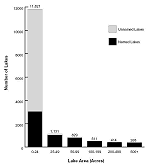 The depth of Wisconsin's natural inland lakes also varies a great deal, ranging from a few feet to a maximum depth of 236 feet in Green Lake (Big Green) in Green Lake County.
In addition to the inland lakes, portions of Lakes Michigan and Superior lie within Wisconsin's boundaries. These Great Lakes are two of the largest freshwater bodies in the world, and they add nearly 6.5 million acres of water to Wisconsin.
Wisconsin Lakes Roundup
County with the most lakes - Vilas: 1,318
Counties with the fewest named lakes - Brown and Outagamie: 4
Five Lakes with the largest surface area in Wisconsin:
Lake Winnebago, Winnebago County: 137,708 acres
Petenwell Lake, Juneau County: 23,040 acres
Chippewa Lake (Chippewa Flowage), Sawyer County: 15,300 acres
Poygan Lake, Winnebago County: 14,102 acres
Castle Rock Flowage, Juneau County: 13,955 acres
Five Deepest Named Lakes in Wisconsin:
Lake Wazee, Jackson County 350 feet
Green Lake (Big Green), Green Lake County: 236 feet
Redgranite Quarry, Waushara County: 163 feet
Lake Geneva, Walworth County: 135 feet
Lohrville Quarry, Waushara County: 120 feet
Five Most Common Lake Names in Wisconsin:
Mud Lake: 116 lakes
Bass Lake: 82 lakes
Long Lake: 59 lakes
Spring Lake: 45 lakes
Lost Lake: 42 lakes
Lake with the Largest Volume in Wisconsin:
Lake Winnebago, Winnebago County - 696 billion gallons (based on an average depth of 15.5 feet)
Largest man-made lake in Wisconsin:
Petenwell Lake, Juneau County - 23,040 acres (36 square miles)
Lake with the most shoreline:
Lake Winnebago, Winnebago County - 85 miles
Where Is Wisconsin Lake Property Located?
Highway 29 runs East and West, connecting Green Bay, Wausau and Chippewa Falls over to the Twin Cities. 80% of Wisconsin's lakes are located north of this line, in the northern one third of the state. As for Southern Wisconsin, there are only 20 lakes over 500 surface acres located within 3 hours of the Chicago/Milwaukee metro areas. The following charts break down the number of lakes per Wisconsin county.
Wisconsin Lakes
Loon Lake Realty remains committed in assisting you in finding lake and lake access property in Wisconsin. Please email or call us at 1-800-388-7685 to help you with your search for quality, buildable lakefront real estate in Wisconsin.
Source: Wisconsin Dept. of Natural Resources "Wisconsin Lake" book.